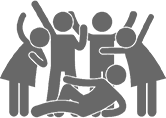 Reunions
Uncover a host of nature based fun activities with your family and friends today. Set in the tranquil country-side of Bangalore, Chukki foundation is a celebration of beauty, heritage and nature and hence an ideal destination for a perfect family outings.
Whether it's taking a stroll down memory lane or creating new memories, reunions are meant to bring people closer together. Don't just plan another reunion, create lasting memories at Chukki foundation.
Our unique setting, with its eco friendly accommodations and picturesque grounds, provide a remarkable glimpse into our culture and heritage. We offer an astounding variety of Rural Tourism activities, sure to make your next reunion unforgettable. At Chukki foundation, the surroundings are serene and lush green and provide you with Rural Tourism an abundant opportunities to explore the nature along with you old time friends. Recollect the memories of the old times on a nice swim in the vast swimming pool, a walk along the cauvery river or a fun camp fire at night. We will assist you in the coordination of every detail, to ensure that your gathering is a most memorable time!
"Grown up, but not apart!"
"Let your Reunion be special at ChukkiMane"