Destination for Rural Tourism
---
Located minutes away from the ancient river Kaveri, Chukki Mane is a rural retreat that aims to build a truly self-sustainable community as a model to encourage eco-conscious living in both rural and urban populations.
Our mission is to encourage and equip visitors to foster self-sustainable living spaces and spread the word on sustainable living. From recycling biodegradable waste to enriching soil life, we ensure our planet receives more from us than we take from it. Our experiential tours give you the best taste of rural life, with the opportunity to interact with the locals and learn about the local cuisine and culture. Located near Talakadu, a region rich in history, there is a whole culture to explore with all its unique customs and traditions.
We welcome people of all ages, cultures and nationalities to experience our holistic approach to healthy living and explore the wonders that a sustainable lifestyle can gift you. This is why we conduct camps for families, school children, and teams from corporate enterprises, encouraging people of all walks of life to adapt to living responsibly and help conserve our planet for the generations to come.
Destination for Rural Tourism
Warmest welcome for our guests to Chukki Mane…!
---
Chukki Mane is a Permaculture Center, demonstration and education dedicated to the application of Permaculture Ethics & Agroforestry. It is the harmonious integration of landscape and people providing the food, energy, shelter and material and non-material needs in a sustainable way.
On the banks of Kaveri river, Chukki Mane is located at a distance of 124 Kms from Bangalore and 60 Kms from Mysore.
Chukki Mane, is closer to the famous Gaganachukki, Bharachukki waterfalls and it is a treat for nature lovers. The cool breeze over River Kaveri, the chirping birds and the green plantations makes this as a photographer's favorite jaunt.
Chukki Mane is an ideal place for nature lovers and is located very near to Shivanasamudra Waterfalls. We conduct Family Outings, Photography Tours, Village Tours, Nature Tours and Social Service Tours in and around Shivanasamudra. We specialize in personalized care and hospitality to make your trip a memorable experience.
Embrace it, Share it, Celebrate it!
For Those Lasting Memories
---
Built amidst a sea of green, the campus offers visitors a much-needed break from the daily commotion of their urban lives. A unique, enticing garden boasting a wide variety of vegetation from fruit-bearing trees to decorative shrubbery invites life from all corners. In close proximity to some truly breathtaking water-bodies, the region can be explored by foot, bicycle or bullock cart with only your loved ones for company.
With a host of outdoor games and activities to choose from, a trip to Chukki Mane is never a dull one. Our experiential tours are designed to add new perspectives to your outlook, giving you a taste of rural life and demonstrating a sustainable lifestyle, while history-buffs will find everything they desire and more in Talakadu, the town of temples.
Spend your evenings relaxing by the campfire, delightful conversations all around to bring you closer as a family under an open, starlit sky. Bring your loved ones to Chukki Mane for the dream vacation you always wanted and leave with memories for life.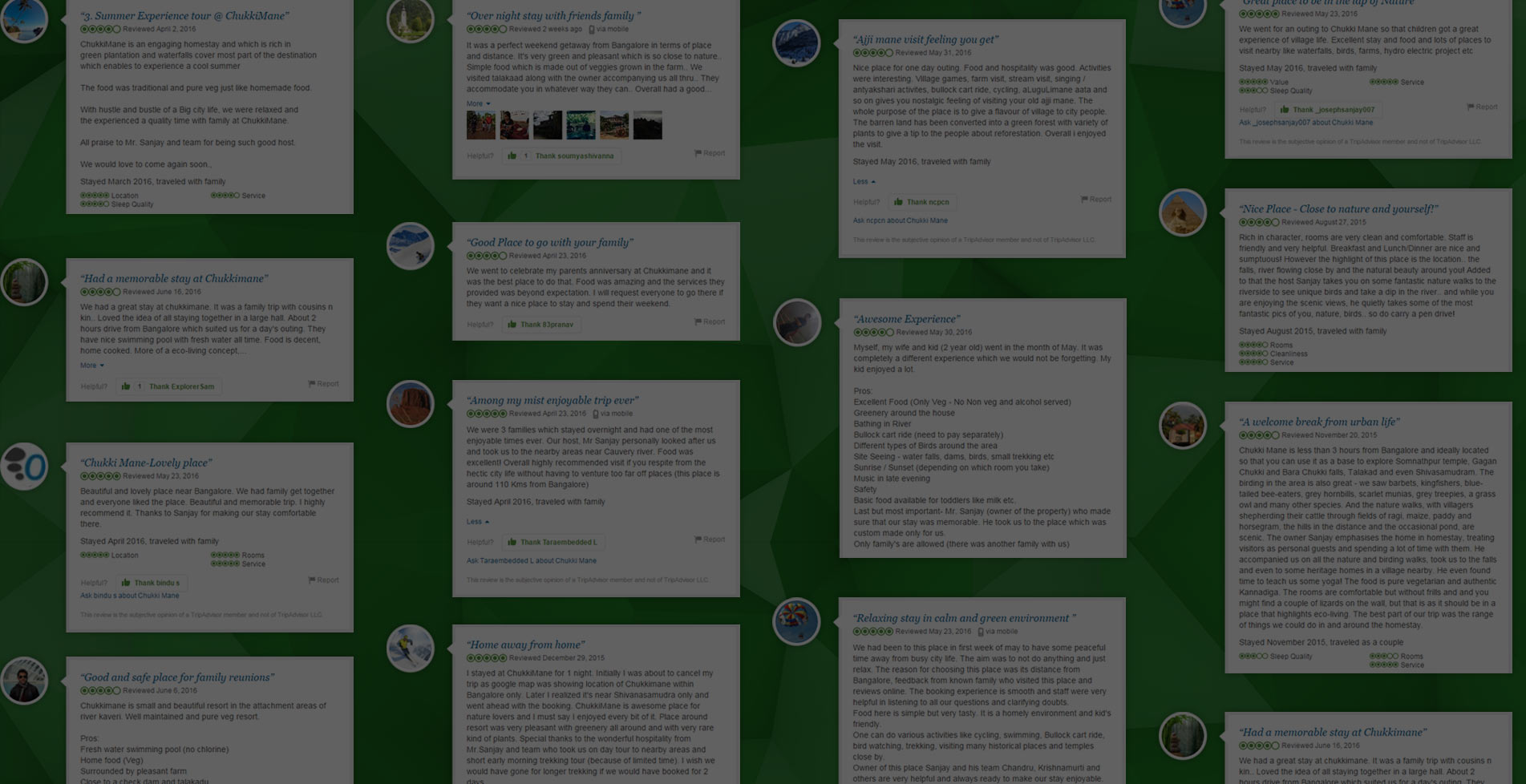 Great Team at CHUKKI MANE. Very Good Accommodation. Staffs are always ready to help. Nature is the best thing here. Have two wonderful views here sunset and sunrise . We thoroughly enjoyed our stay here.
I'm a nature enthusiast and a frequent traveler. I've been to many places in India and abroad. However, I'm now compelled to write a review as I want people to know that this is not a place only to stay but a place to learn something from Chukki Mane which u have missed out in ur life..
It was an unforgettable experience in a pleasant manner to spend days at Chukki Mane. The chief reason for making this experience unforgettable was homely treatment received from hosts. Home-made food was enjoyed much more deliciously than a five star hotel made food.